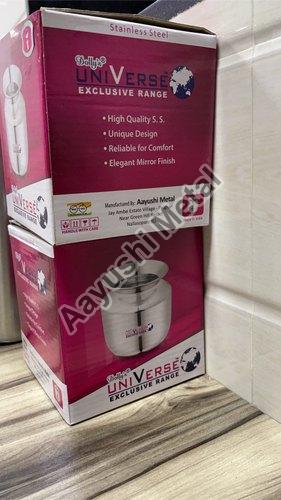 Stainless steel is primarily composed of iron, with chromium accounting for approximately 10.5 per cent and carbon accounting for approximately 1.2 per cent. Other elements may be present in the alloy depending on the nature of stainless steel used.
The SAE 202 steel grade is the most often available on the market steel grade for kitchenware. This grade is utilised for food storage since it has a lower corrosion resistance than some other variations.
When it comes to producing various culinary objects, stainless steel is without a doubt one of the most commonly utilised materials. Stainless steel may be found in practically everything, from pots and pans to household appliances. You name it: flatware, cutlery, mixing bowls,or even a Stainless Steel Tripura Lota. If it's designed for use in the kitchen, there's a strong chance it's made of stainless steel.
There are numerous compelling reasons why stainless steel is so widely used. It's one of the healthiest materials to use in kitchenware, and it's nearly indestructible. Nonstick cookware is very popular, and there are a variety of different options to consider, such as copper, aluminium, or cast iron cookware.
Facts About Stainless Steel:
Steel's primary component is iron, but steel is essentially an alloy of iron, carbon, and numerous other elements, making it one of the toughest and most impact-resistant resources available. However, there is one major drawback to using steel in the kitchen: it corrodes when it comes into touch with water. Introducing stainless steel!
Stainless steel is an iron-chromium alloy that is rust-resistant. Chromium, in essence, forms a thin coating on the top of the steel, preventing further corrosion.
Amazing Benefits On Offer:
● DURABILITY - To begin with, stainless steel cookware is practically indestructible! There are variables in quality, just as there are in everything else, but a decent piece of stainless steel cookware would last for many years with no adjustments. Under no conditions will it chip, bend, or distort. Although nonstick and aluminium cookware is beneficial for specific purposes, the coating always begins to flake off with use.
● EASY MAINTENANCE - Although nonstick cookware appears to be easy to clean, if you burn something, good luck cleaning it without destroying the surface. Although stainless steel pans do not have a nonstick coating, it does have a smooth and nonporous surface that makes cleaning relatively straightforward. If some food does get stuck to the bottom, you can clean as much as you like without worrying about ruining the surface. You may also immerse your stainless steel equipment in water to make cleaning simpler without risking damage.
● UNALTERED FOOD TATSE - Unlike other forms of cookware, stainless steel cookware has no effect on the taste or nutrient benefits of your food. You may think this isn't a big deal, but cookware composed of metals like cast iron and copper can make your meal taste metallic. The taste of your meal will be preserved using stainless steel cookware, as it should be.
Stainless steel equipment like the Stainless Steel Tripura Lota does not come in a rainbow of colours, but the exquisite, timeless aesthetic of stainless steel fits into almost any kitchen. The best part is that, unlike nonstick or enamel cookware, it will continue to look wonderful over time.