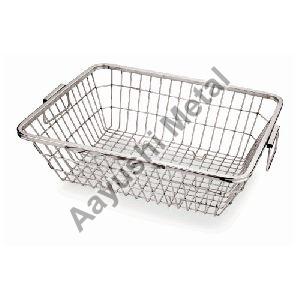 Fruits hold a substantial position in our daily diet. Hence, storing them precisely becomes equally significant for all. In such a situation fruit basket comes in handy. It not only supports you to organize your pantry but also keeps the fruits handy for any time use. Gone are the day when fruit baskets would be bulky and unlikeable; now you can get beautiful and sleek baskets supplied by the Stainless Steel Fruit Basket Suppliers to store your fresh fruits and vegetables that will also augment the look of your kitchen just the way you like. If you have been thinking of altering the look of your kitchen, get these fruit baskets to start with.
Types of the Stainless Steel Fruit Basket
Plantex Stainless Steel Basket:
The plant's Stainless Steel fruit basket is made up of high-grade stainless steel wires with additional chrome-nickel coating for mirror finishing. The fruit basket is one of the finest kitchen accessories which is rustproof and corrosion-free because of additional layers of powder coating and mirror finishing. It is directed to evade using acids or such strong chemicals for cleaning the material, rather use wet and dry clothes to clean the product sometimes for long-lasting shine and toughness.
Artzilla Basket Organizer:
The Artzilla basket is made of the best wire bent iron with a heavy bottom. It is handmade, tight, sturdy, and tough. It is also washable and recyclable. The colour is modern and sophisticated, it is not only a practical basket but also an attractive iron art to decorate your home and kitchen.
SMART SLIDE Basket for Kitchen:
Made of alloy steel, the smart slide basket is the finest for storing all your produce. The simple design blends flawlessly into an elegant, modern kitchen. The sleek, smooth lines and modern finish add superiority. The mildly curved sides add a touch of grace to this useful countertop organizer. Wipe down is essential to prevent dirt buildup. Gripped feet stop sliding and protect mild surfaces.
Industries Storage Baskets:
The basket is big and suitable to organize loads of fruits. Made with strong steel, these endearing baskets add a touch of colour to your kitchen countertop. Handy and suitable, you can use this basket for many uses beyond the kitchen as well. It is robust, durable, and versatile.
ROLLYWARE Swing Fruit Basket:
This fruit basket comes in an exclusive hanging three-tier hammock design that is visually attractive. Add a touch of style to your countertop with this useful yet stylish fruit organizer. The swing fruit basket is made sturdy and made of stout stainless steel with a tough and rust-resistant chrome finish look. Designed to take up the weight of heavy fruits when put on it. A space-saving design makes this a useful place for storing your fruits.
Qualities of the Stainless Steel Fruit Basket Suppliers
Equipment's customization version needs
Providing Best Quality Product
Customer Satisfaction
Delivery on Time of the consignment
Competitive Price range
Coordinated distribution network
Operating with Highly Qualified Staff
Close Relationship with Customers